Ashleigh and Frank make me so happy.
I've been looking through their images for the past couple hours: collecting images requested by their reception venue – The Firehouse, trying to decide what to share beyond what Mischa already shared here… and one thing has been consistent. I have been smiling the entire time.
Their unconventional choice for a two-part wedding:  a short ceremony at City Hall in San Francisco followed a few days later by a reception dinner in Sacramento – was beyond perfect for me (as I had just begun my third trimester and was ready to slow down a bit)
It made the whole experience less stressful and rushed than many weddings seem to be, and we really had a chance to get to know them and enjoy their events.
I dare you not to fall in love with these two:
Making even the justice of the peace laugh on a Wednesday afternoon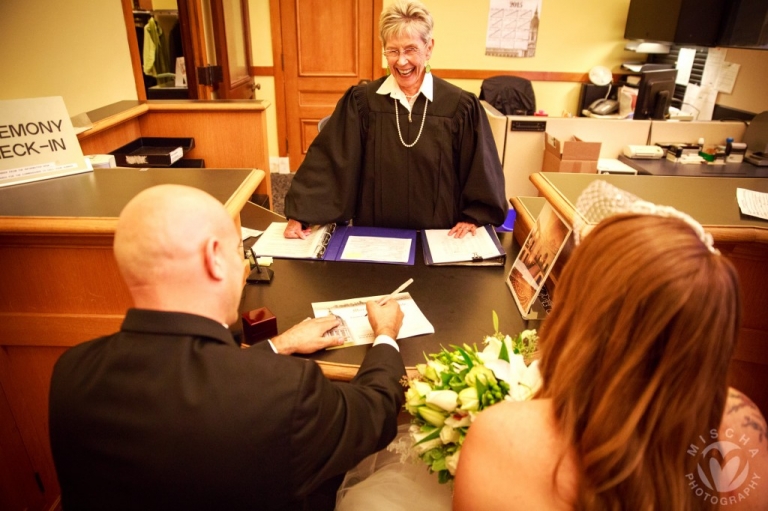 Their close family & friends gathered to witness the ceremony in the City Hall rotunda.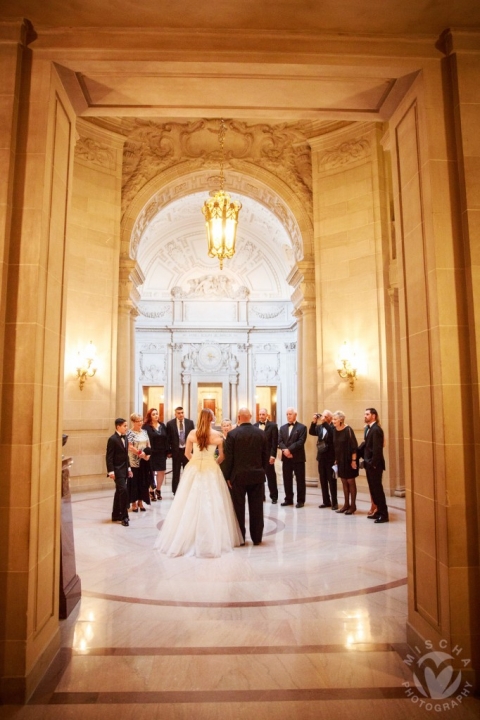 Mischa sent me to the 4th floor to catch a bird's-eye view of the ring exchange.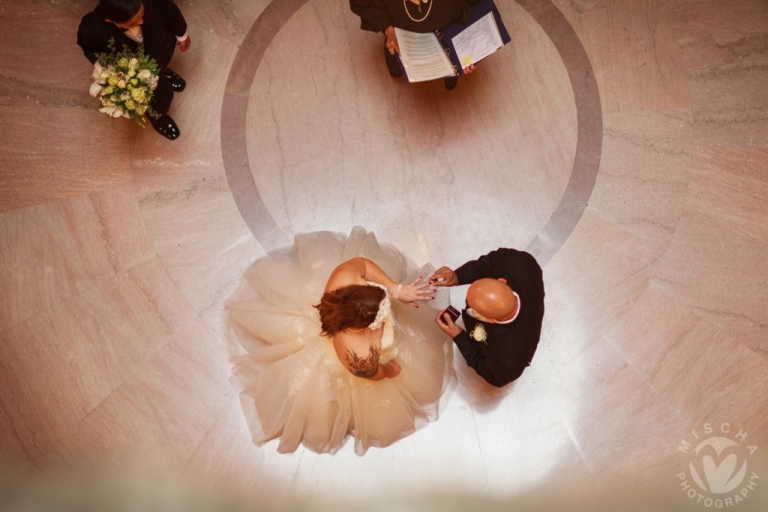 While he stayed on the 2nd floor to catch the emotion. It truly seems like they only have eyes for each other here.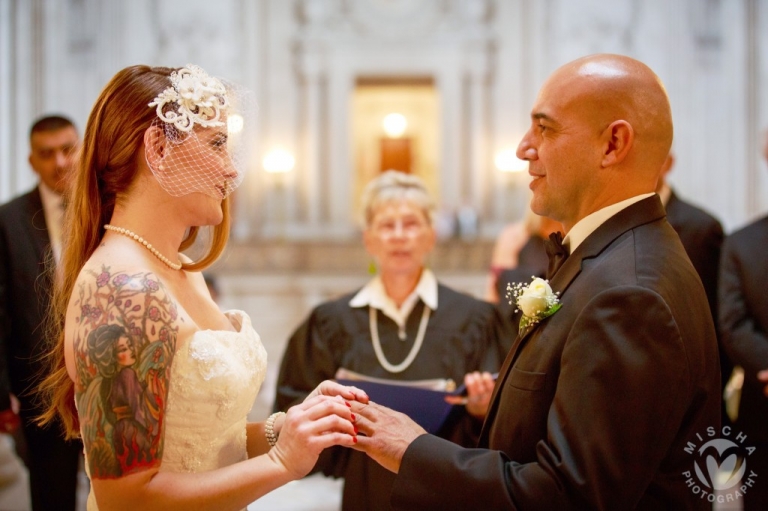 This is one of the two images they chose to have enlarged on metal to display at their reception dinner. It was such a treat for us to have our work displayed while we photographed the second part of their event.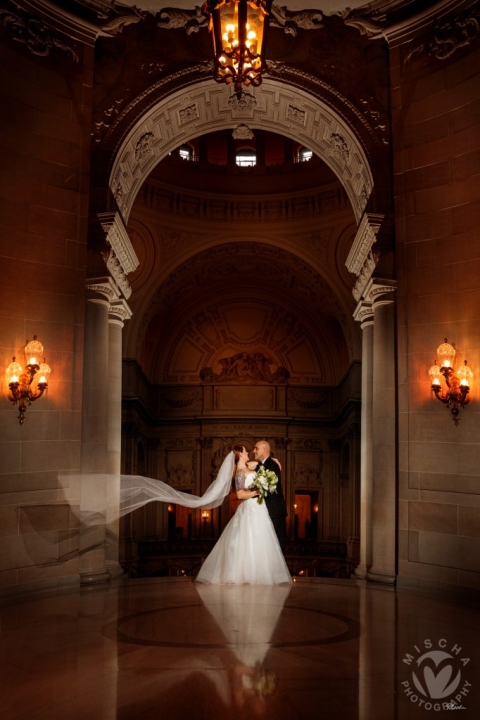 The attitude here is everything. Because I know that they're half a second away from bursting into laughter again.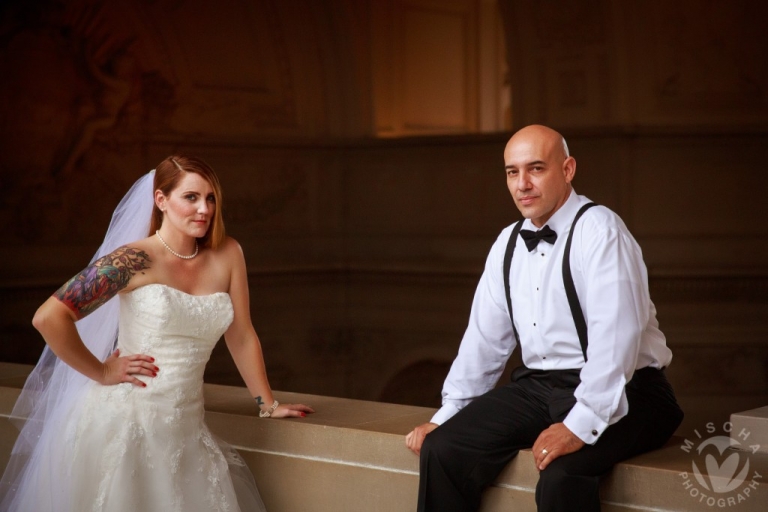 They adore each other so much….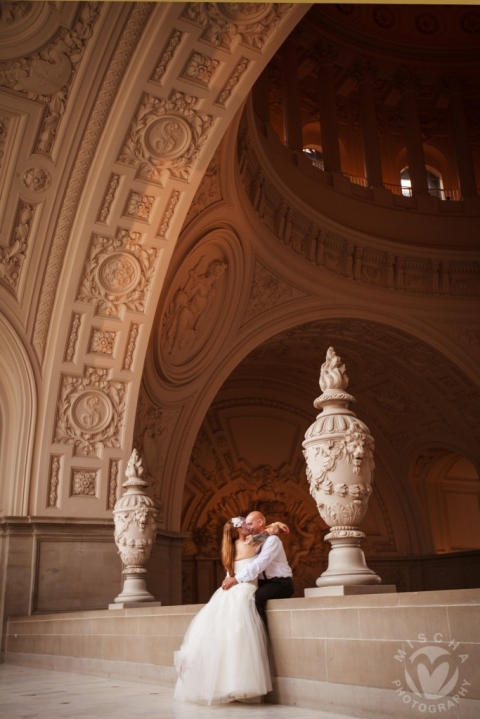 …and were willing to do all the goofy things Mischa suggested.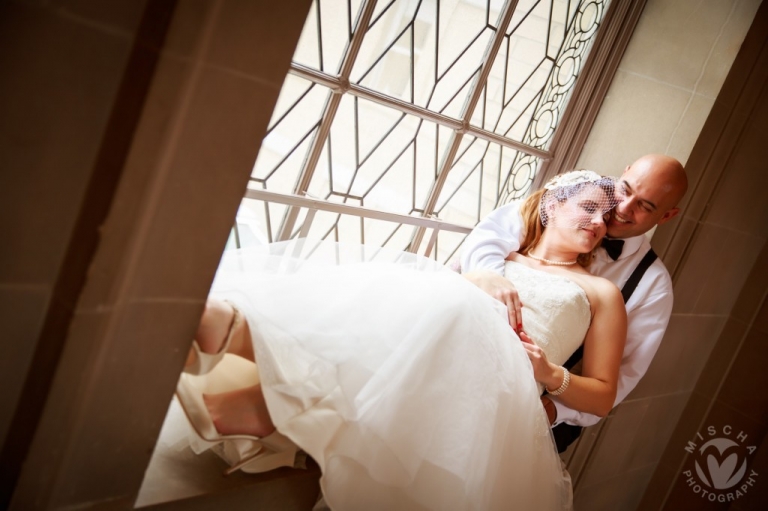 I crouched (gracefully and with ease – ha!) to get this image so as not to photo-bomb Mischa's angle with my sweaty, pregnant self.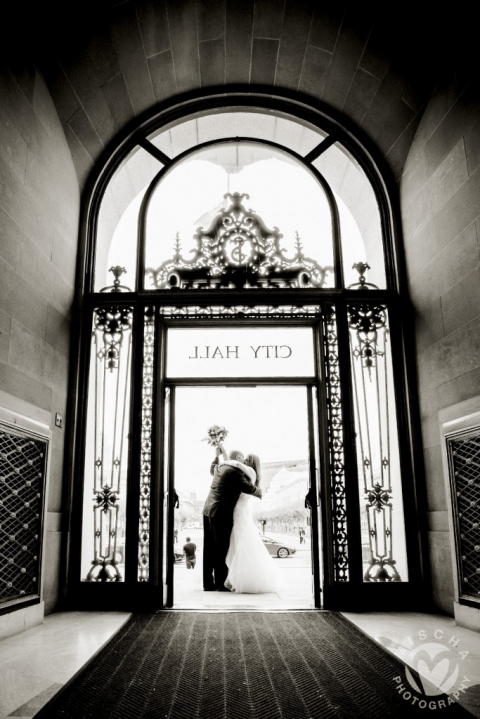 He got the shot he was looking for, so I'd say it was a success for "team Brisha"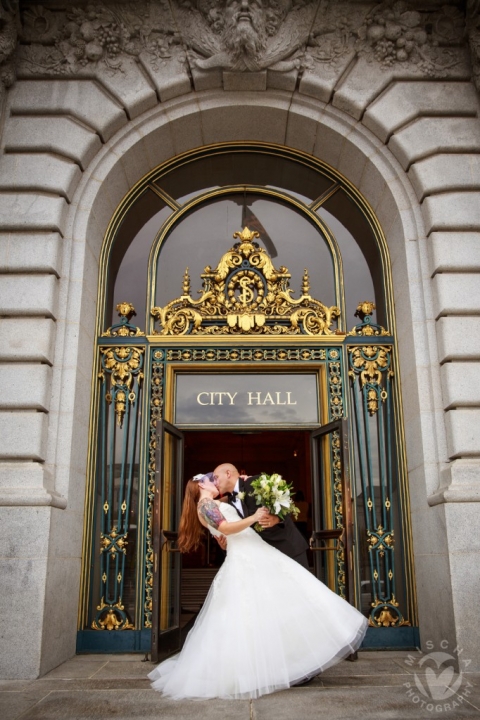 This is the second image Ashleigh and Frank had printed on metal to display at their reception. Directly behind the head table, it drew attention throughout the night.  Everyone had heard about me throwing the veil for this shot and praised me for my tenacity and energy while so obviously pregnant.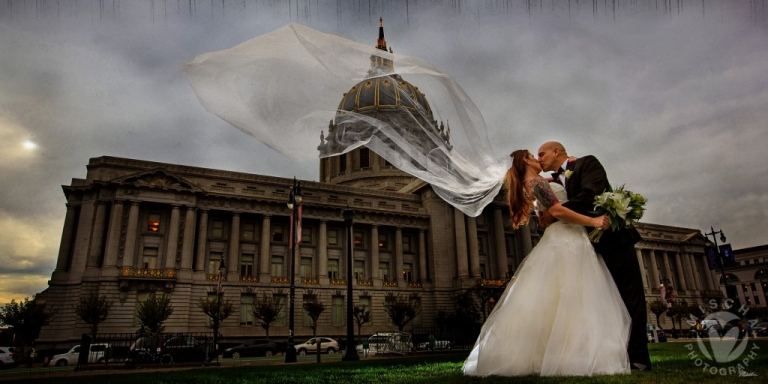 This is one of my favorites. Their look is so classic, but with personality too. It reminds me that we had to keep pausing to manage the tourists who wanted to take a picture too.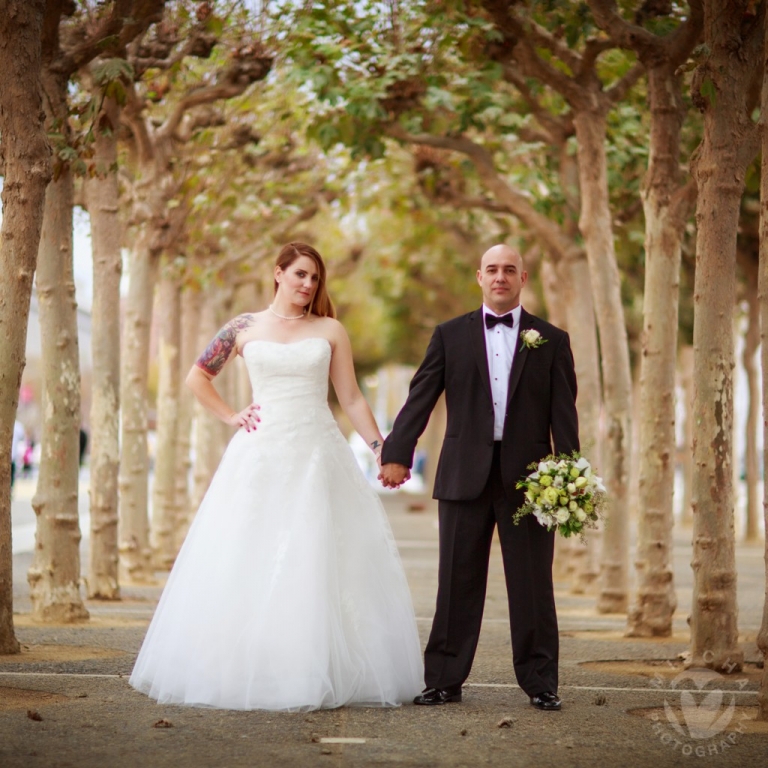 Ashleigh is so playful and vibrant here that I couldn't help but include it. I will fondly remember our visit to City Hall for their ceremony with this lasting impression of fun and love.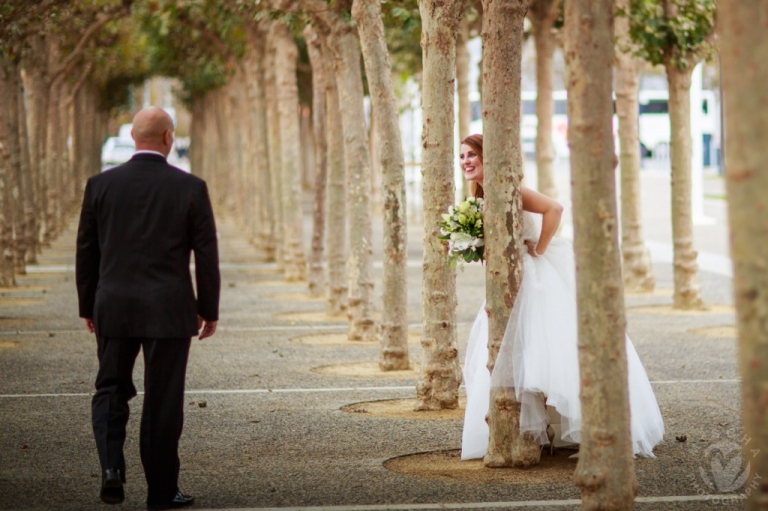 What's a wedding blog post without a ring shot.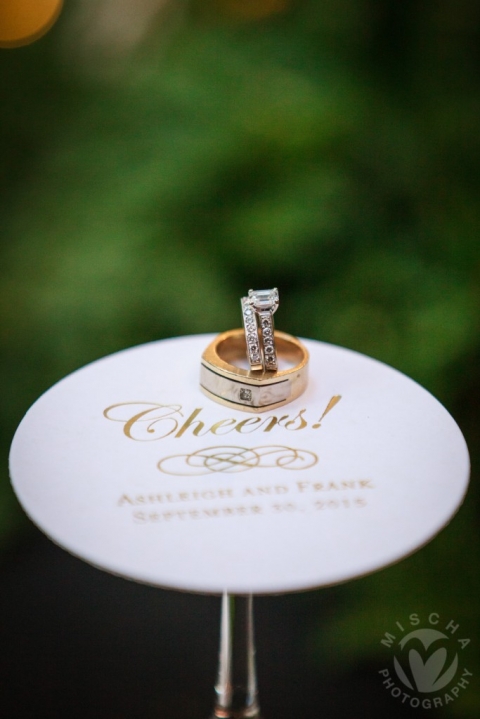 A little reception scene setting with the head table at the Firehouse Restaurant in Old Sacramento. There's our shot on metal, looking fabulous!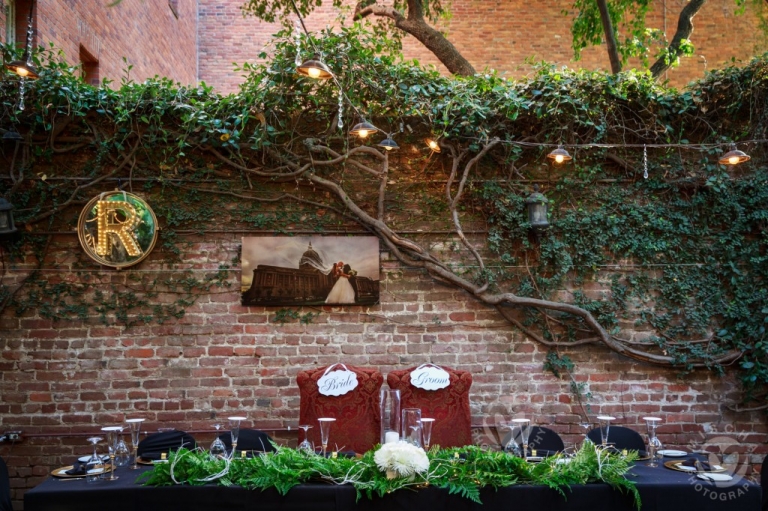 The entire venue looked fabulous. To see their favorite images from Ashleigh & Frank's reception, check out their blog post here.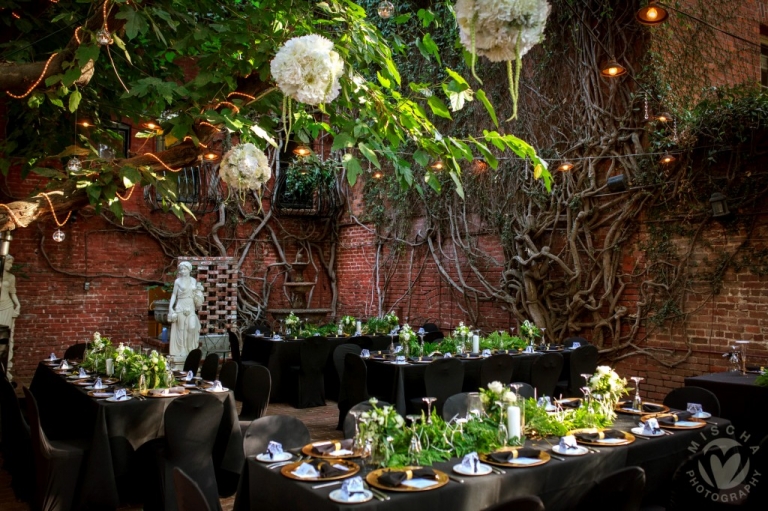 I loved that with the relaxed schedule, Ashleigh & Frank actually got to greet and visit with their guests.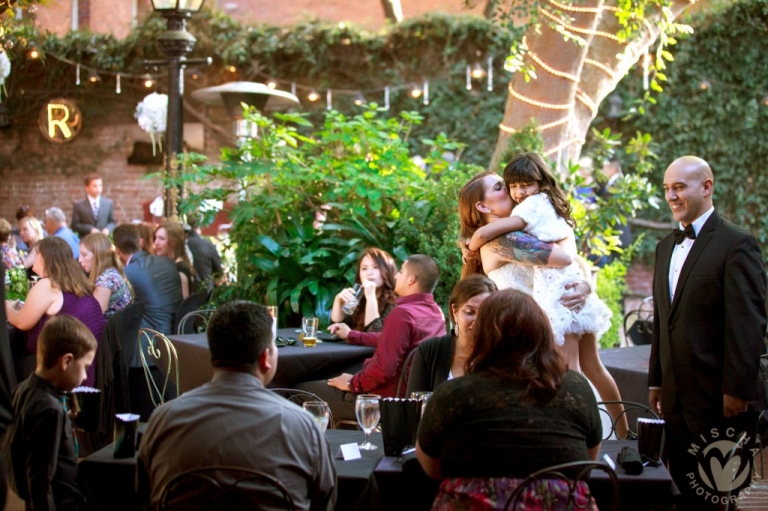 The weather was absolutely perfect. Not chilly at all, and a light breeze kept anyone from feeling too warm either.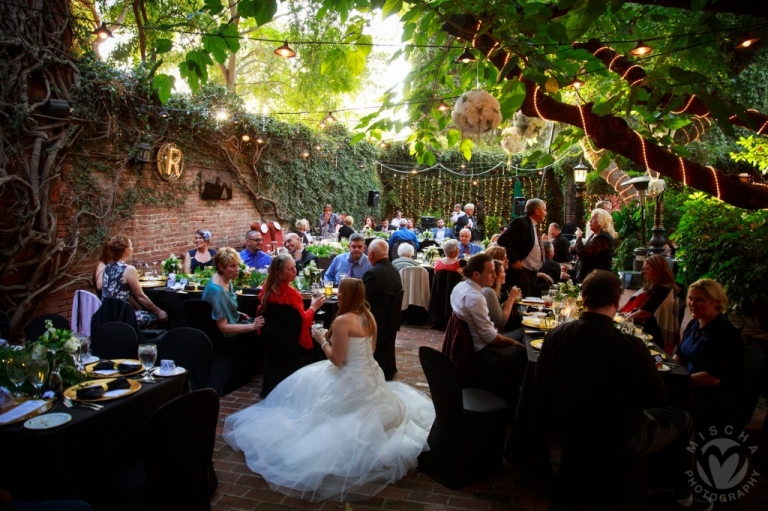 When the sun set, the lighting in the courtyard stayed warm and magical. Heartfelt toasts made us laugh & cry.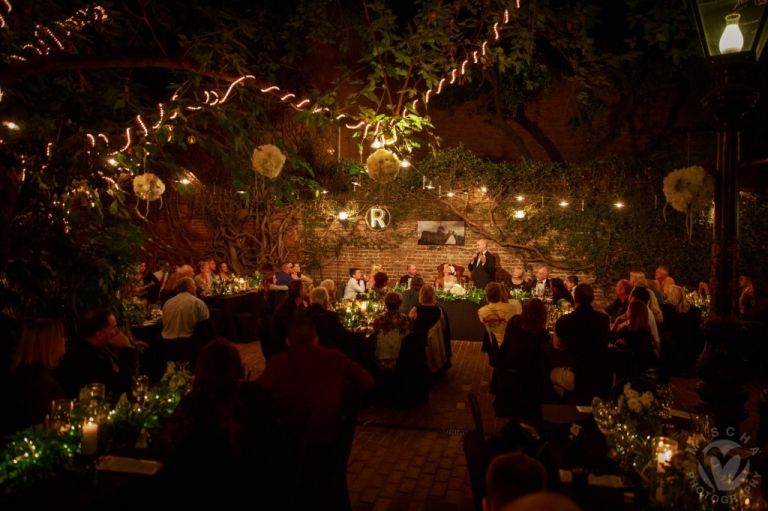 Ashleigh & Frank had their first dance under the open sky.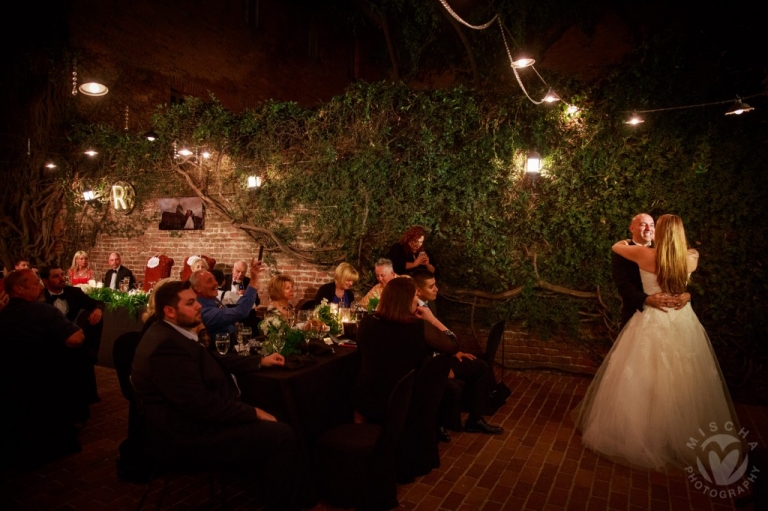 There may have been tears on both sides of the camera here.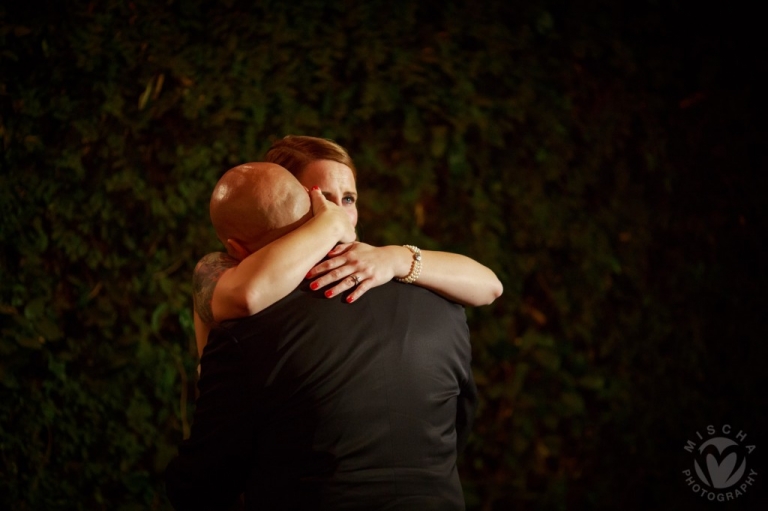 One shot they requested specifically was a nod to Frank's Cuban heritage and the combining of their families. Here are the most important men in Ashleigh's life, pretending to smoke cigars (nobody actually smokes) and drink cocktails (maybe a few of them were actual cocktails)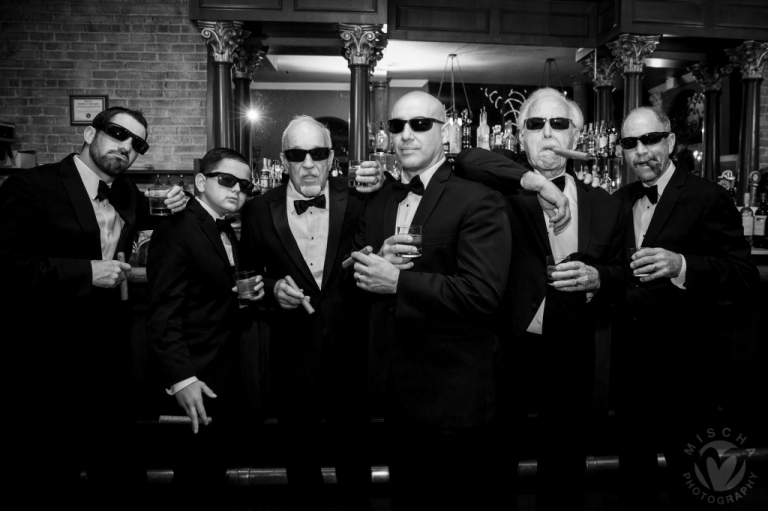 Here's our gorgeous bride with her brother, her son, her husband, her father & her grandfather. Images like this are so fun to create.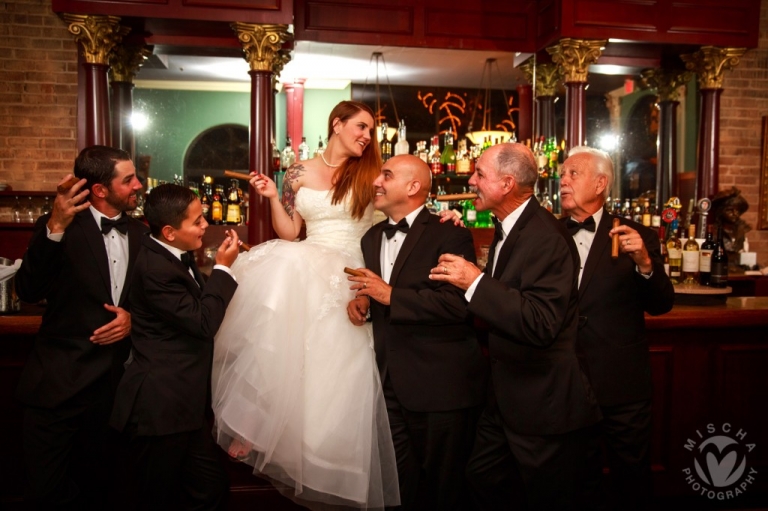 Just before we left the party, we took a few moments in the alley with just Ashleigh & Frank to get this last shot. Mischa sure has lovely handwriting when he's using a light source to spell "love" from right to left under specific time constraints.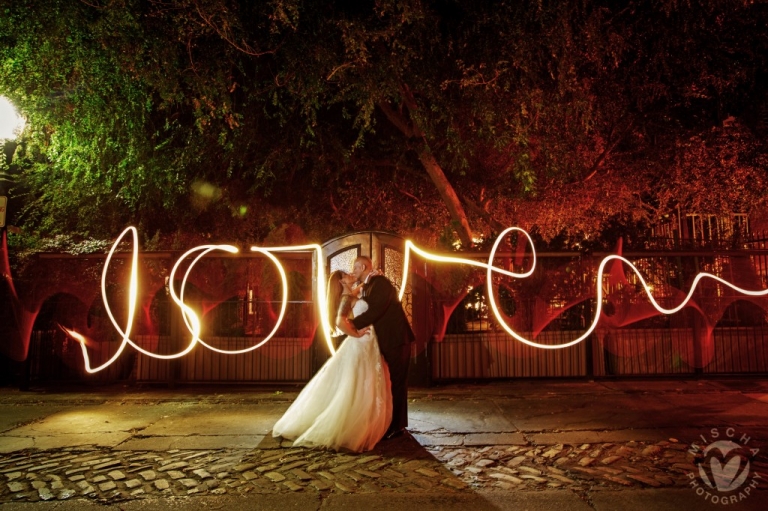 Ashleigh & Frank are in love and create love. We fell in love with them and they treated us like family from the very first moment through the moments she insisted on sending me home with 3 slices of wedding cake (one of each flavor) and continuing on after the wedding day(s).
I owe her a huge Thank You for the CUTEST new baby outfit you've ever seen. I hope this post will be a good start. Thank you Ashleigh. Thank you Frank. You make me smile with my heart.
– Bri (& Mischa too)