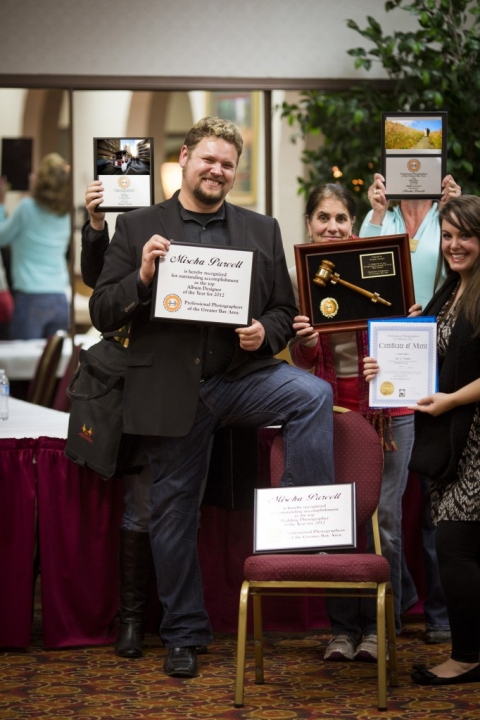 **please note: this photo is of Mischa accepting other awards & accolades, back in 2013, when I was only wrangling a couple chihuahua mixes and not a toddler or a newborn, so we actually went to awards banquets and accepted things in person. Someday, we hope to accept more awards in person again, but today, our babies are getting the attention that the folks in Atlanta, Georgia at Imaging USA are missing out on this week.
Official Press Release:
San Francisco / Sacramento Photographer, Mischa Purcell, Earns Photographic Craftsman Degree
Mischa Purcell of Mischa Photography recognized for helping to advance the photography industry
Sacramento, CA— Mischa Purcell of Mischa Photography – with studios in both San Francisco and Sacramento – has earned the photographic craftsman degree from Professional Photographers of America (PPA). The degree was presented to Mischa Purcell by PPA president Michael Timmons, M.Photog.M.Artist.Cr., CPP, F-ASP, at the association's annual convention, Imaging USA, held January 10-12, 2016 in Atlanta, Georgia.
This degree is not merely a piece of paper. It means that Mr. Purcell has met the standards of excellence set by PPA. He has been awarded the photographic craftsman degree in recognition of his service to the photographic profession as an orator, author and mentor.
Mr. Purcell's degree—and all the expertise it requires—illustrates his accomplishments and talent as one of a select few.
About PPA
Professional Photographers of America (PPA) is the largest international nonprofit association created by professional photographers, for professional photographers. Almost as long-lived as photography itself, PPA's roots date back to 1869. The nonprofit assists more than 28,500 members through protection, education and resources for their continued success. See how PPA helps photographers be more at PPA.com.
---
---
PPA's website has more to say here:
PPA degrees help prove the effort that photographers put into their art.
Photography is not a static industry; new techniques and technologies always appear. The actions photographers take to earn PPA degrees help keep them abreast of the changes. If a photographer has reached this status point in the photographic industry—the receipt of a PPA degree—he or she has pushed beyond the norm.
Is not this the type of person you want to entrust your memories to?
PPA's Merit & Degree program recognizes photographers' achievements in the profession. Created in 1937, this is the oldest PPA educational program. It is run on a point system, with merits standing as points that member photographers earn for various accomplishments. Merits are earned towards the degrees. After 25 merits, the photographer is eligible for a degree, depending on the types of merits earned (whether they were speaker, exhibition, and so on).
A PPA degree is not the completion of a university curriculum; it is a representation of the oldest and largest professional photography organization's standards of excellence.

 

What are the different PPA degrees?

Photographic Craftsman (Cr.Photog.)
One of the highest recognitions for speaking, writing, or mentoring on photography; positions the photographer as an authority in the industry.
Awarded in recognition of service to the profession as an orator, author, or mentor.

 
---
---
So, what does this all mean? Basically, Mischa has been going above and beyond since he earned his college degree in Fine Art Photography to continue his education, educate others, and serve as an outstanding example of a Professional Photographer.
…and now he can add "Cr.Photog" to his fancy email signature. 🙂