Thanks to Facebook's history feature, I was reminded this morning that we got the keys to the Sacramento photo studio location 5 years ago today. Which threw me down a rabbit hole of reminiscing and pulling up old photos.
We became the first owners to occupy the building at 2794 21st Street in some time – it had been renter occupied as all sorts of different businesses for years – we've gathered tidbits of its history along the way, many through the anecdotes of 37 year neighbor  (not 37 year old neighbor) Patrick McCormack of Patrick's Barber Shop. He's the best neighbor and neighborhood watch we could ask for. If you have any stories of your experiences to add to our building's historical timeline, we'd love to hear them!
The oldest photos I could find come from Jocelyn Munroe Isidro's book: Sacramento's Land Park. http://www.amazon.com/Sacramentos-Land-Park-Images-America/dp/0738529656
These are photos from her book: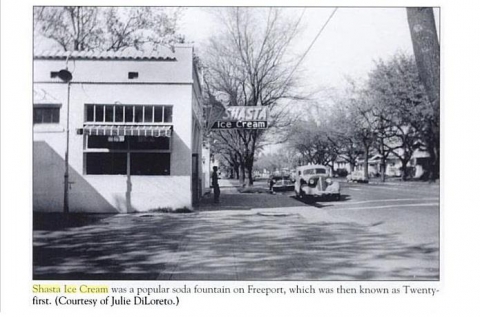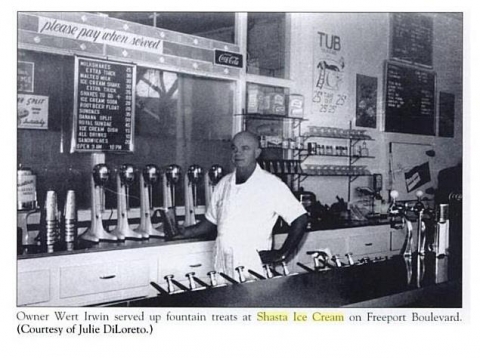 For fun, I did a super quick recreation of these images today: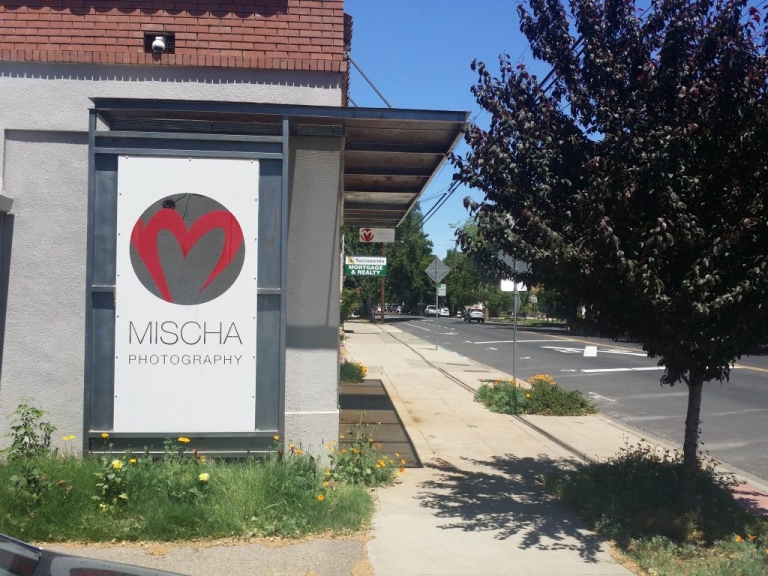 (I pulled Mischa away from his desk and didn't let him change his shirt or look in a mirror for this)
When we purchased the building in 2011, it was the location of California Upholstery, The Country Bear, Legacy Tattoo & Girlfriends Hair Salon.
These are exterior photos from the real estate listing: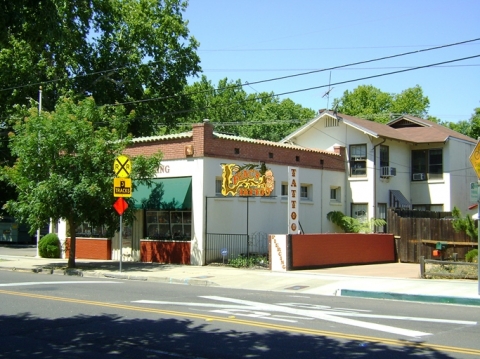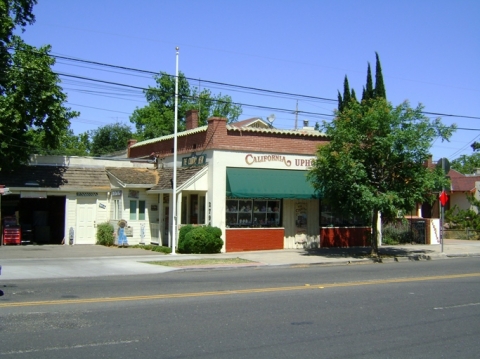 We took on the project knowing that the location, size, and potential of the building were exactly what we were looking for. This would not be a short or easy process.
Slowly but surely we tackled one project and then the next. In the 5 years since we started, we've learned more than we bargained for about our style and what's important to us. Here are some highlights:
The kitchen is awesome, style and function from the counter tops ( vogue quartzite ) to the range (Capital Culinarian), it was our first major project. (ahem, priorities)
We have a hidden bookcase door. (this was a life long dream come true)
After the unavoidable basics, (code compliance, windows, roof repair, heating & cooling) decorating the studio space was at the top of our to do list
Decorating our personal space is an embarrassingly low priority – besides the fridge – which is covered in photo magnets.
Here are some extremely satisfying before & after photos to give you an idea of what we did and how our studio looks today:
Looking out towards 21st Street. The day we got the keys, May 16, 2011. We discovered the old front door and decided we'd like to use that as an entrance again. Compared with the same view today.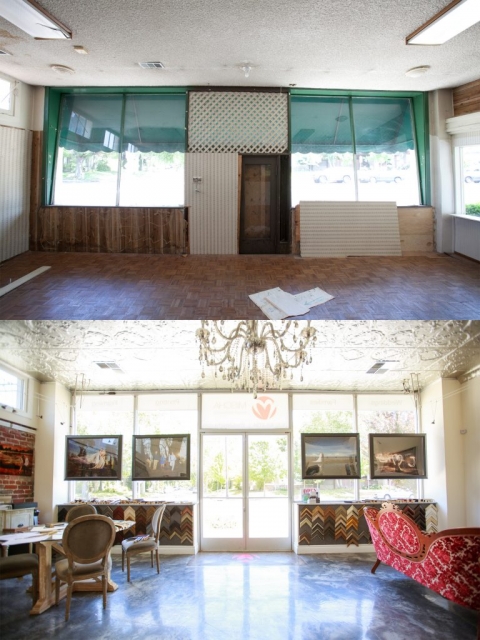 This is the view from the current front doors, looking into the building. Old asbestos popcorn ceiling had to go in favor of safe & gorgeous tin ceiling tiles. Raised parquet floors were removed and the concrete floor underneath was finished with a metallic epoxy. The access door to the studio and offices in back was moved to the right hand side and decorated to camouflage into the interior design. I don't see these types of design ideas in my head the way Mischa can, so I did a lot of trusting and hoping (and drinking) during that first year of ownership.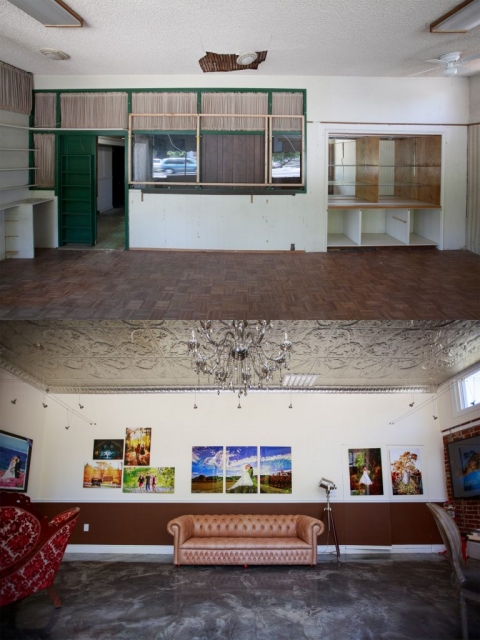 This is the wall with the old door – looking out on our parking lot and the railroad crossing. You can even see our old logo on our 2 door company car, both of which have since been replaced with classier, more useful versions that reflect where we are now (ahem – brand recognition & car seats)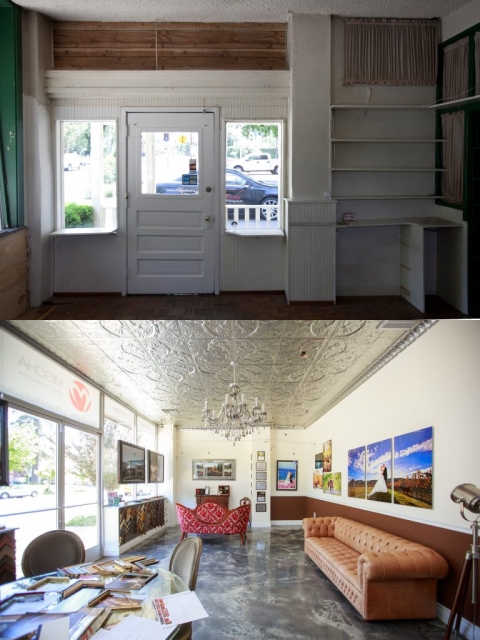 We were so stoked to discover the brick hiding under this wall-papered particle board wall. Replacing the windows helped with not only the heating & air conditioning, but the noise from the trains as well.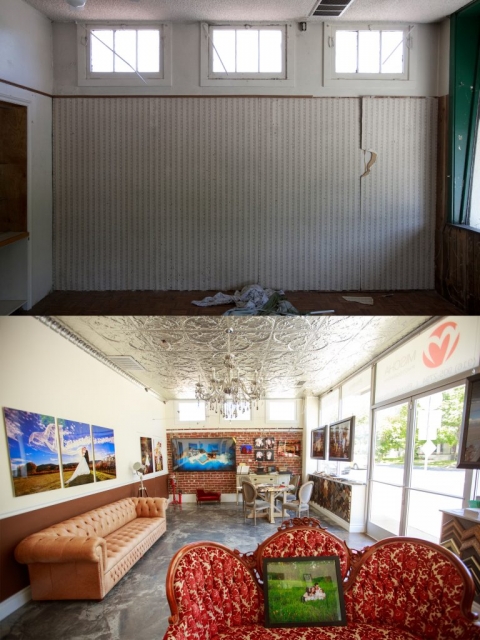 Comparing these two images, there are almost more differences than there are similarities. It is so satisfying to see the work we put in and realize the vision Mischa could see the whole time. We're all set up for consults and product display in the front, fully controlled studio lighting in the back and Mischa even makes his own frames here… even our front yard looks a million times better. I can't imagine what we'll have accomplished in another 5 years!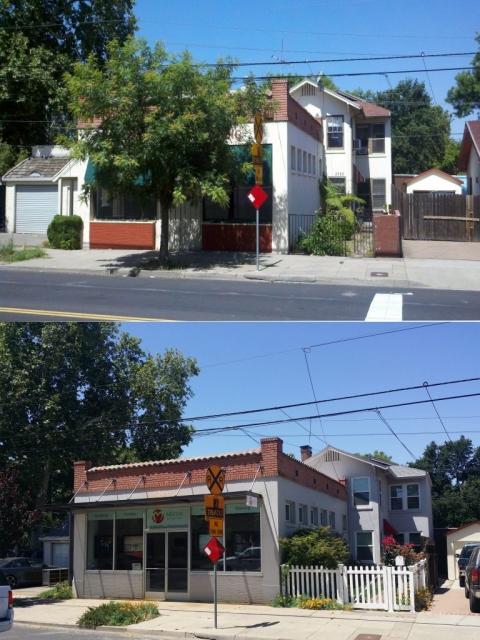 Please come and visit us when you have the chance. Whether it's for your own portrait session, to see what we're working on today and snuggle the baby (Nico will be 5 months old on the 24th!) or just to check out the rest of the studio and see what we've done to the house. There are cold drinks in the fridge and always a story or two to share.
See you soon!
~ Brie & Mischa