Angelina & Phillip are good friends of ours and it's surprising to think that we just met recently. We have so many things in common! For their engagement session we set aside a few hours to play around in San Francisco together. These guys really like the big impact images, they don't mind a few candid moments thrown in, but the more color and lighting, the better. On the list of places to visit: Chinatown, City Hall, and Pier 7 on the Embarcadero for night shots.
Now, parking in San Francisco can be tough, even more so when there's an event of some kind. We were lucky enough to find parking AND happen upon a parade while in Chinatown. The traffic we started photographing (carefully) around was soon replaced by "event staff", dancers in various stages of costume, and a growing number of  spectators. This was a Monday evening, so it took us by surprise. The event turned out to be the 83rd Annual U.S. Conference of Mayors whose evening itinerary for June 22nd reads: For their final night in San Francisco, the mayors will journey to San Francisco's Chinatown, the oldest Chinatown in North America and the largest Chinese community outside of Asia. The event will begin with a parade up Grant St. complete with lion dancers, dragons, and traditional music. Maybe they should have added "..and an authentic real-time engagement photography session by award-winning photographer, Mischa Purcell"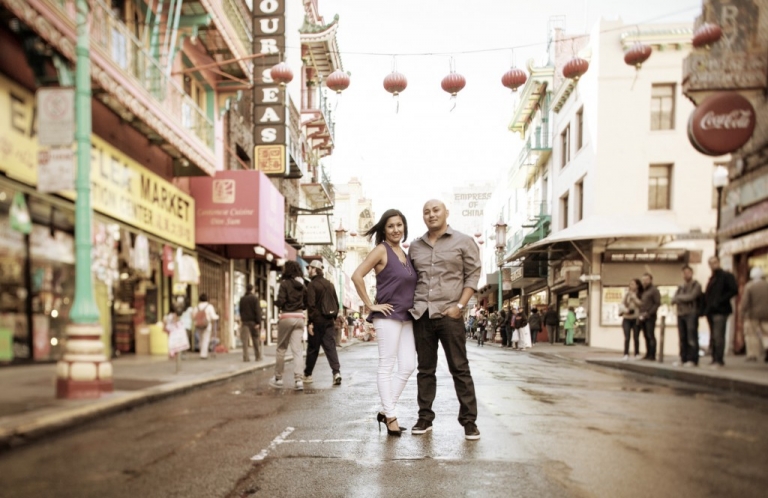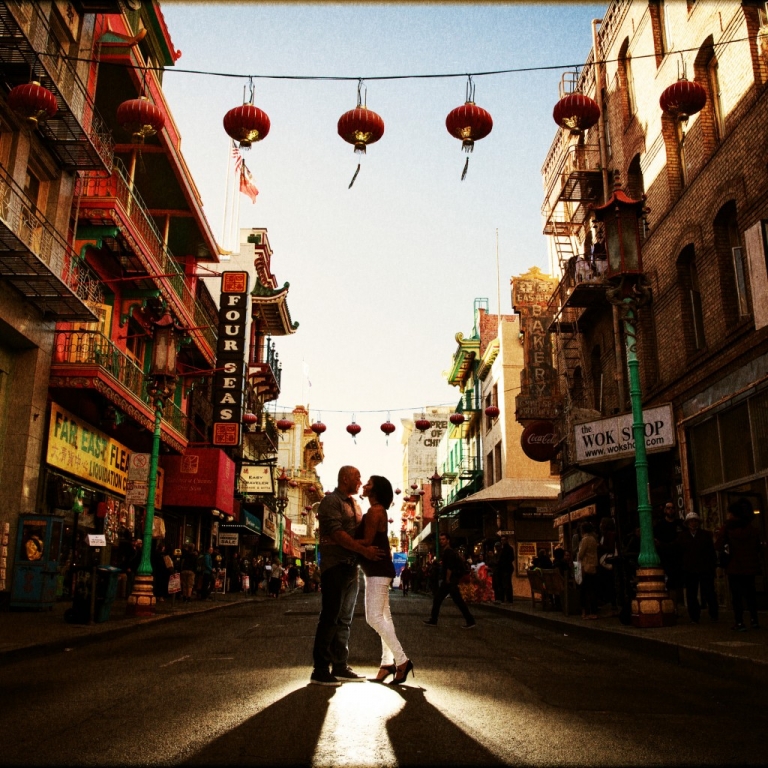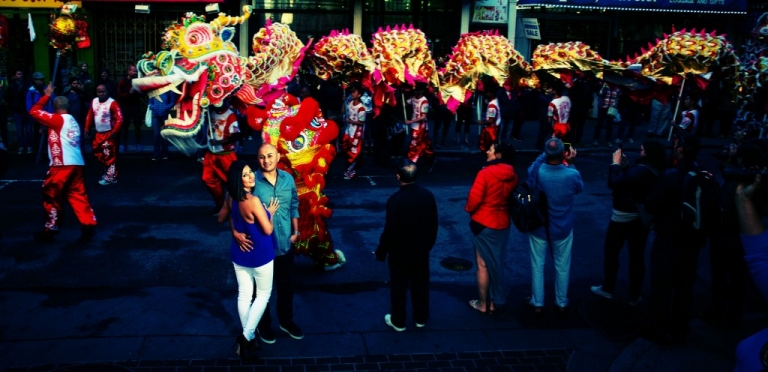 Our second stop was San Francisco's gorgeous City Hall building. A public services facility that is also breathtaking (and open until 8pm!) We had spent a little more time than we meant to in Chinatown, so we had to hurry at City Hall. Luckily, we were almost the only ones left in the building. This would not have been the same experience earlier in the day.
Here's some evening light from the windows on the 4th floor.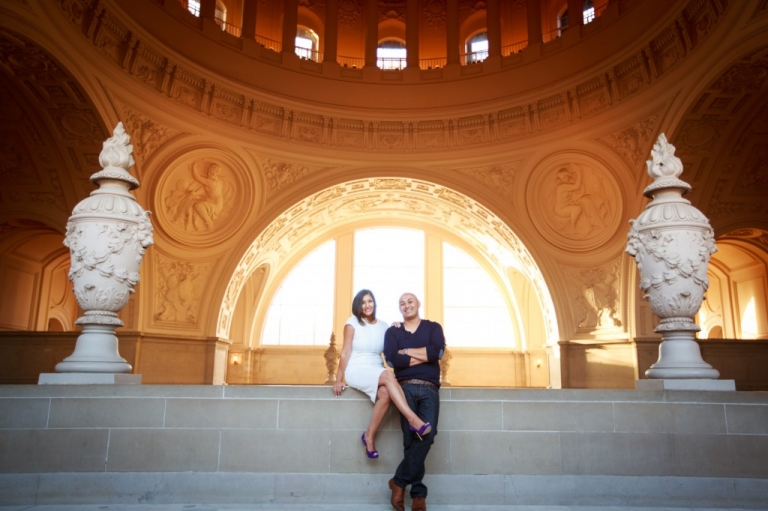 This image has some artistic post-processing with the color  adjusted to be reminiscent of a traditional film technique called "cross process".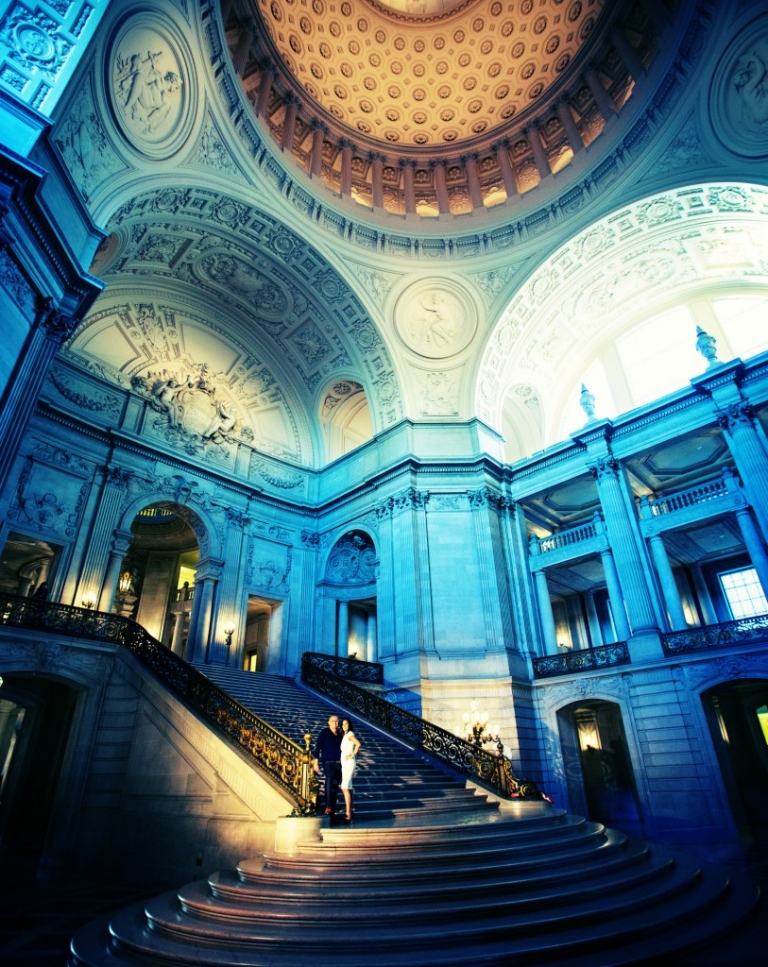 The exterior of the building is pretty special as well. In the waning evening light, we were able to capture a few romantic portraits without the harsh shadows we usually have there in the daytime. (well, on clear days)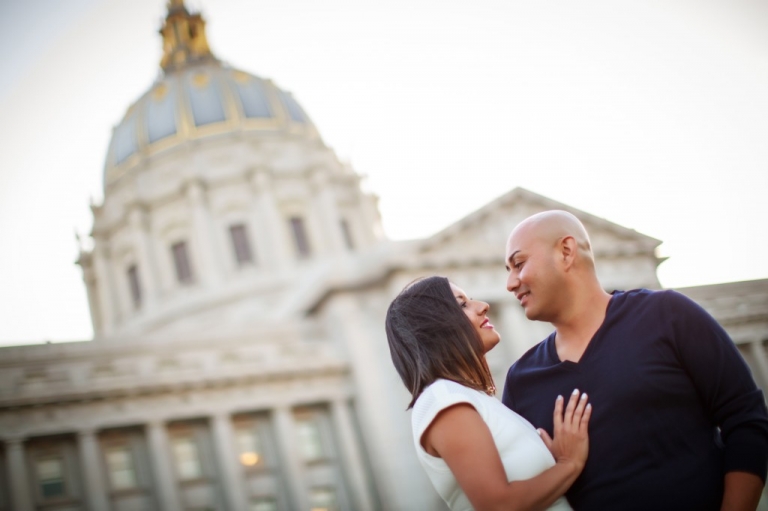 A pair of tree-lined walkways in the plaza are a favorite of transients and photographers alike. We got lucky and had this one all to ourselves. Mischa used a composite technique to get the shallow depth of field in this image. He used a very wide aperture lens and focused on the couple, then took about 50 photographs in rapid succession of them and the surrounding area…like a puzzle with overlapping pieces. We merged the photos together once back at the studio using computer software, and what you get is a tack sharp couple and a buttery soft background.  Voila!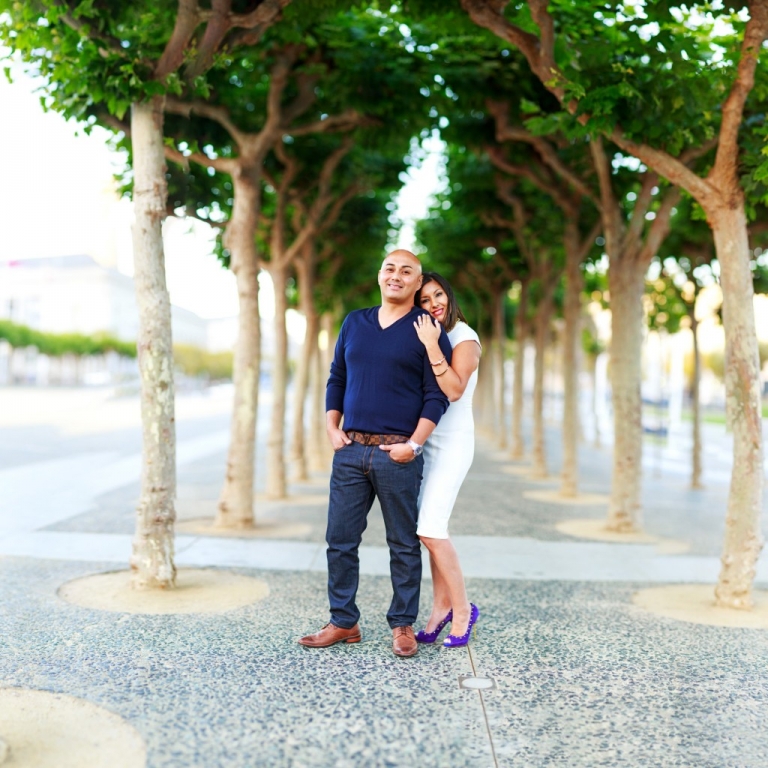 We got to Pier 7 on the Embarcadero just as the sun had set and it was definitely getting chilly. Between shots, I lent Lina my wool pea coat (a staple of the San Francisco wardrobe). She was a total trooper even through the dropping temperatures and bitingly cold bay wind. Mischa used flash for most of the images we captured on the pier, sometimes on a lightstand, sometimes handheld with me looking a bit like the statue of liberty…. my arms always get a workout when I assist on these shoots.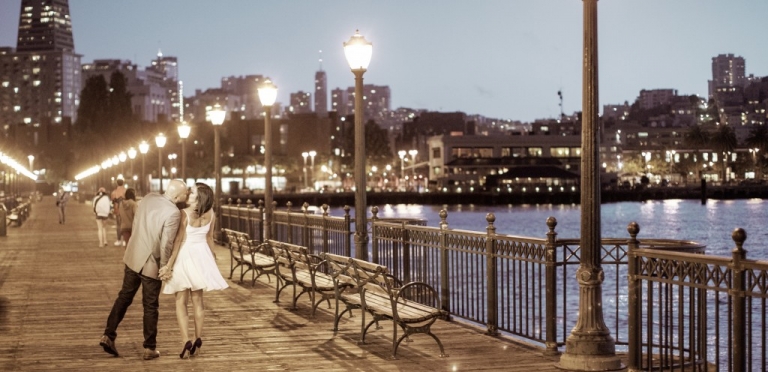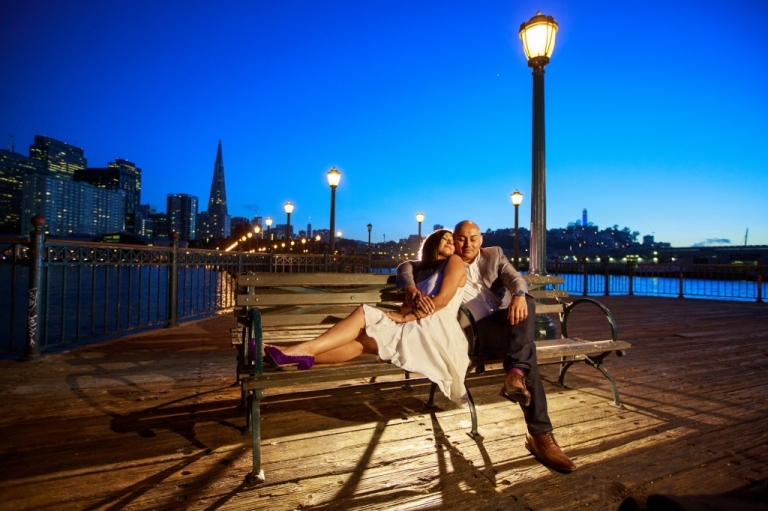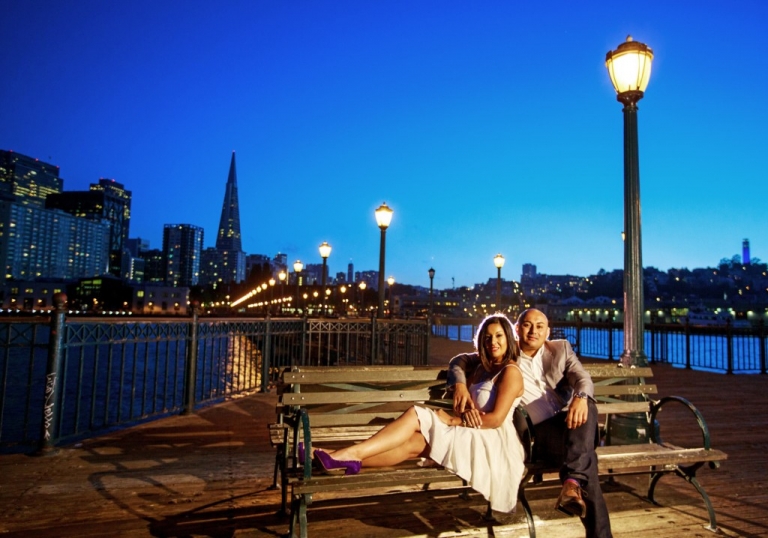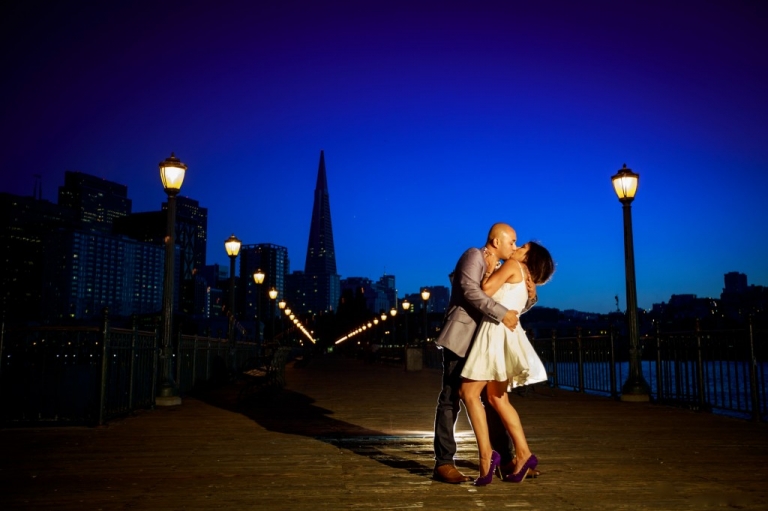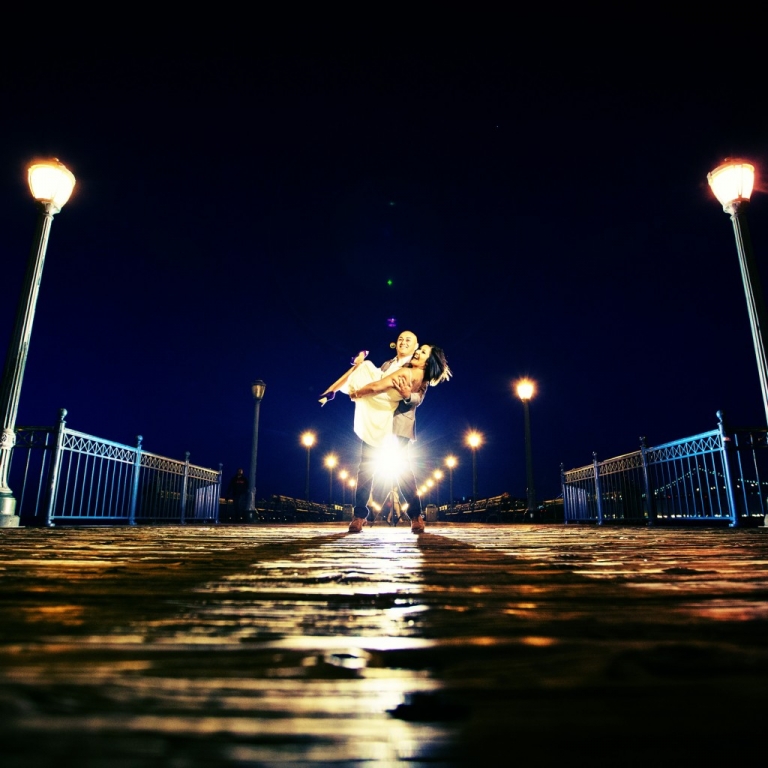 We had a lot of laughs (as usual) with Phillip & Angelina during their an Francisco engagement session and can't wait for their September wedding in Napa! Look for their wedding photos on the blog later this Fall!