San Francisco wedding photography is a popular genre. Many couples choose to get married in San Francisco whether they are natives or just visiting. Justin and Lynda are Bay area locals and wanted to avoid the cliche which allowed Mischa the freedom to let his inner artist out to play.
The couple got ready at the Fairmont San Francisco and we used the hotel and the block surrounding the entrance for some fun and romantic couples portraits.
We used an adjacent ivy-covered wall at The Scarlet Huntington hotel for some closer-up portraits that featured their expressions before moving next door to the 1055 California apartments. The contrast of Justin's ivory tuxedo jacket made this building a nice background. Mischa and I risked life and limb (not really) jaywalking to get a better vantage from across the street.
Now, we have spent time on this corner before, waiting for a passing cable car to pose an excited wedding couple on. Never having ridden a cable car, Justin and Lynda weren't interested in hopping on for a photo op in their wedding attire, but when Mischa saw the opportunity to use a passing trolley in his composition, he used his talent and years of experience to make a little San Francisco magic.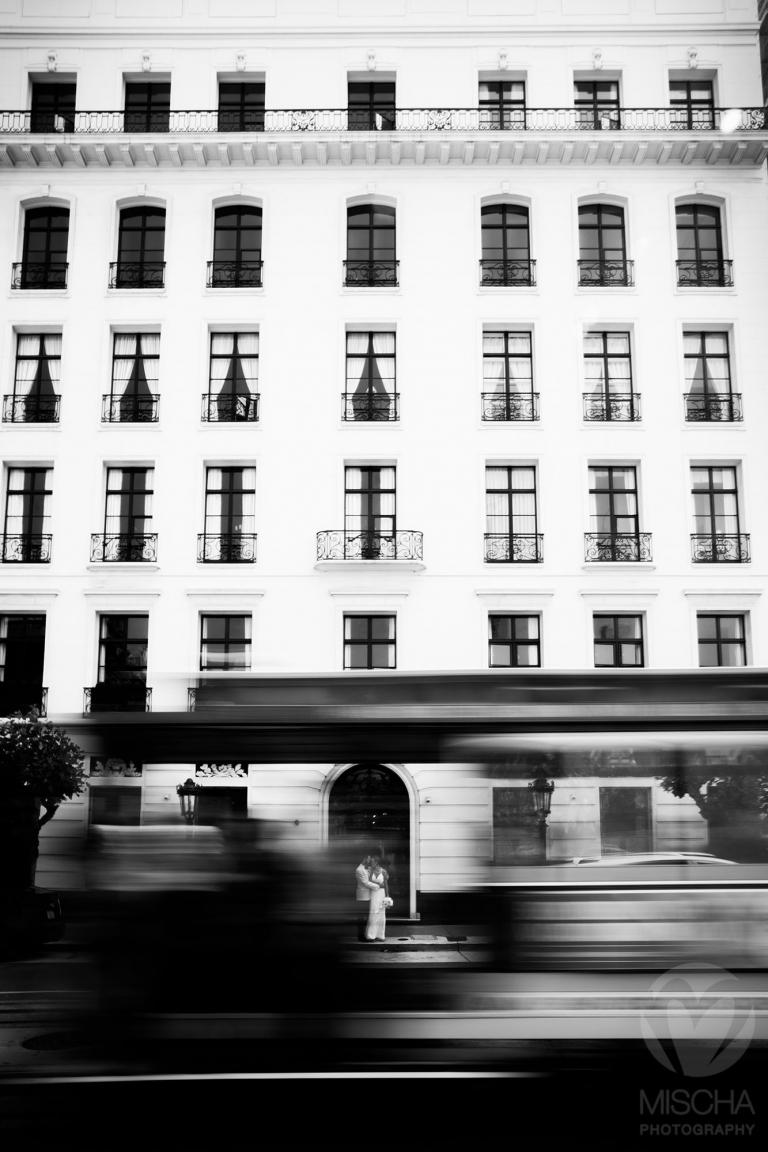 I just love this photo.
Mischa knew the moment he took it.
The passing cable car made this image one that Henri Cartier-Bresson would consider a "decisive moment" and it is why we absolutely love being photographers. We live for this stuff.
For more magical moments and San Francisco wedding photography, follow us on Instagram @photomischa and like our Facebook pages: Mischa Photography and Mischa Photography ~ Sacramento.